At Aban, we bring music to life and to your life through crystal-clear whole home audio. So what does that really mean for you?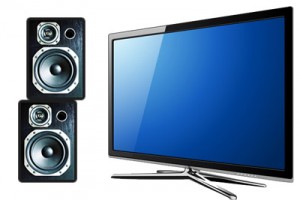 You can listen to anything—and we do mean anything—in any area of your home, while anyone else in your home listens to their own personal choice. Your music is always there, right at the press of a button. It's a powerful, personalized way to enjoy your music.
Whole Home Audio is fast becoming one of the most requested options by home-owners today. Aban Security can design and install everything from a simple second zone system that runs from your existing receiver to the most extreme multi-zone audio video systems. Whether you need a simple volume control in each area or keypads on the wall or the new wireless touch panels that will allow you total control of your home, we will help you realize your dream.  From ceiling flush mounts to rock speakers for your garden, a large selection of speakers is available to blend seamlessly with any decor. Do you want background music or party music? How about both?
The professionals at Aban will work with you to design your dream state-of-the-art sound system.
The benefits of audio/video distribution are seemingly endless:
For starters, it's simple and easy to use, so everyone in the family can get involved and use it.
You only have to have one DVD player, cable box or amplifier in the home. This saves you the need of having to purchase pieces of equipment for every room.
Equipment does not take up any further space in the room since all of the equipment is set up in an inconspicuous place at your house.
At the touch of one button a sequence of commands is sent out for your listening or viewing pleasure.
Most audio distribution systems can be easily updated since the cable from the touch pad controller is common to many manufacturers.
Manufacturers upgrade their systems and equipment constantly to make this process easy for installers and clean for home-owners  Although wiring during a building or renovation stage is more efficient and therefore preferable, disruption to the home is still minimized if this method is not possible.